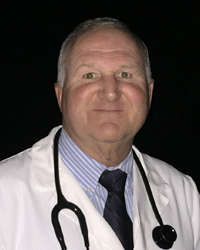 Gregory A. Stone, DO
Medical Director
Gregory A. Stone, DO is our medical director. He has been a Utah resident since 1976 and has over twenty-five years of experience as an osteopathic physician. He is board certified in Family Medicine with additional training and experience in Urgent Care, Occupational, and Functional Medicine. Dr. Stone possesses a wealth of knowledge and skills to diagnose and treat many illnesses and injuries. However, his real passion in medicine is to help his patients optimize their mental and physical health so that illnesses are less likely to develop.
Dr. Stone completed his undergraduate training in chemistry and chemical engineering at the University of Utah before obtaining his training as a physician and surgeon at the College of Osteopathic Medicine of the Pacific in Southern California. He completed specialty training in Family Medicine at Kern Medical Center and served a tour of duty as a rural family physician in Central California with the National Health Service Corps before returning to Utah.
Dr. Stone has been active in the Utah Osteopathic Medical Association for many years and served as the UOMA president from 2008-2010. He is also active in his community and church, serving as Boy Scout Leader, Cub Scout Leader, Trek Physician, and a first aid instructor for the American Red Cross. His hobbies include hiking, camping, beekeeping, and organic gardening.